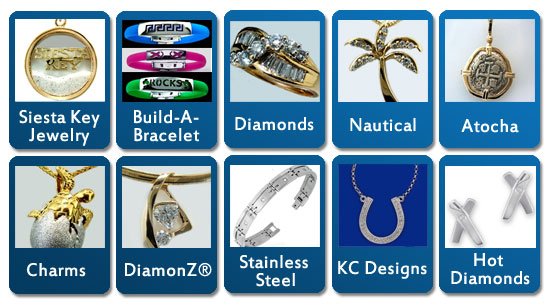 Welcome to Siesta Key's exclusive fine jewelry store, in Sarasota, Florida. You are the reason this site is here and it is so important that your experience is above and beyond any other jewelry shopping experience. The goal is for this jewelry store to always be your only jewelry store, offering easy shopping for your convenience.


Are you looking for the highest quality jewelry at the very lowest prices?
Would you like to have a nice variety of jewelry to choose from?
Is your budget saying that you can afford jewelry as long as it doesn't cost a fortune?
If you answered yes to these questions, then you have come to the right place.

As you browse through this on-line store, you will see that all of the prices have been drastically reduced. You deserve to have what you want!


COME BLOG WITH US. WE WANT TO HEAR FROM YOU! THIS IS WHERE YOU CAN LEAVE YOUR TESTIMONIALS TOO!


Be sure and visit our Nautical Jewelry and Atocha Coin Jewelry categories.

We are a direct diamond & color gemstone importer. Genuine Colored Gemstones & Gemstone Jewelry sold at wholesale prices.
In addition to that, we custom design the majority of our own gemstone jewelry which allows us to sell at 50%-75% below normal retail prices, at or near wholesale.
Our jewelry is made with premium quality gemstones and many one-of-a-kind gemstones.
We offer an extensive variety of unique, finer quality jewelry that you or any recipient would be proud to own, to include Hot Diamonds & KC Designs designer jewelry.



To learn more about gemstones, characteristics & classification, value of gemstones, grading, cutting & polishing, & gemstone color, visit wikipedia descriptions.



Just go over to the left of the page and scroll down the categories until you see the one you want to click on and shop. If you do not see what you need, or as we like to say, "want", please contact Mike Morton @ the customer service number, Mon-Fri 10-5 or Sat 10-4 and he will do his very best to obtain it for you.

Michael & Co. Jewelers
---

If you are out of town, please call our toll free customer service number, 1-877-349-2749.


*All orders under $100.00 have a $7.95 shipping charge added.
*All orders over $100.00 are FREE SHIPPING! (in the USA)




**7 DAY RETURN POLICY TO ENSURE YOUR SATISFACTION WITH ANY JEWELRY PURCHASE.**